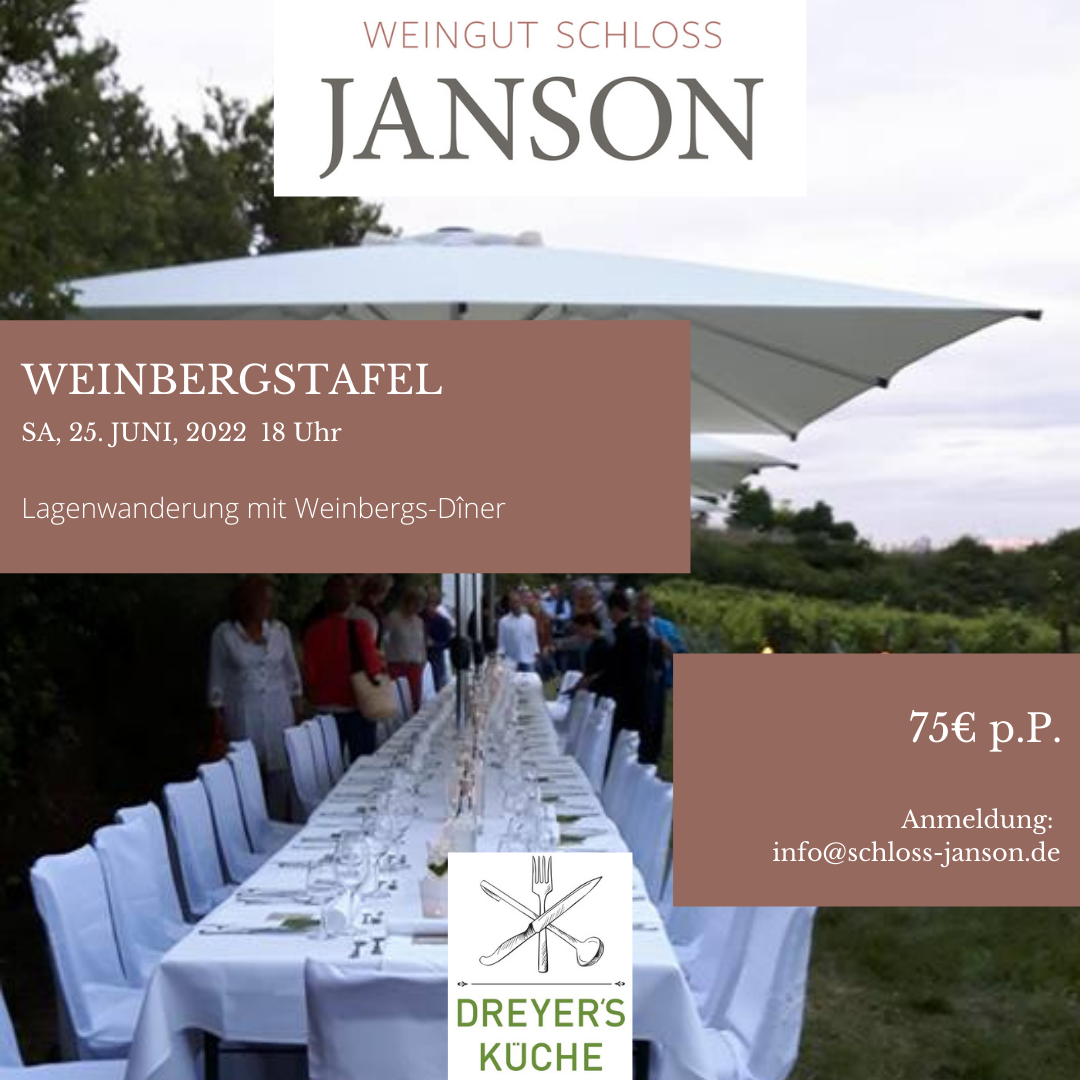 Dinner in the Vines
An unforgettable evening in the vineyards!
Join us for a hike through our top vineyards with winemaker Kurt Janson, and taste the "fruit of the vines" directly where they are sourced! After 2 stops with wine tasting and hors d'hoevres, we wil arrive at our destination: a beautiful set table in the middle of our vineyard, the "Klosterschaffnerei".
Intinerary:
6pm:      Welcome reception in our courtyard
Sparkling Riesling "vom Burggarten" served with saumagen quiche with saffron mayonnaise & cress and spinach-feta quiche with tomato chutney
6:45:      Station 1 :  Trullo "Haarschnur"
Tasting of Bockenheim Sauvignon Blanc, Auxxerois and Blanc de Noir from Pinot Noir. Accompanied by crostini with soft cheese and fig cream.
7:15       Station 2: Trullo "Kühnling"
Tasting of Bockenheim Grauburgunder (Pinot Gris) and Chardonnay, accompanied by burrata on sun-ripened tomatoes.
8pm:  Arrival at our festively set table in the middle of the beautiful vineyards of the Klosterschaffnerei / Sonnenberg.
Wine list:  Silvaner and Riesling from the Klosterschaffnerei,  Spätburgunder (Pinot Noir) from Vogelsang.
Menu:
Tapas variation with Spanish finger salt, aioli, olive oil and bread
main course
Original Spanish Paella mixta with poultry & fish
Lukewarm potato-vegetable tortilia (vegetarian)
Leaf salad with two kinds of dressing, croutons and cereals
dessert
Marinated Palatinate strawberries with crème Catalan